Diana Cosby's – Romance Reader's Build A Habitat For Humanity Home Challenge
There's almost nothing better than curling up with a good book on a chilly day, especially with one of Diana Cosby's romantic suspense novels set in medieval Scotland. But one thing even better is building a warm, safe, and secure Habitat house for a deserving family. It gives families more than just a home; it provides a foundation on which to start their future and build their dreams.
Diana's readers have an opportunity to build such a house.
How it works:
As readers send contributions to Habitat for Humanity of Grayson County, the bookshelf will fill with every donation. The goal is to fund an entire home - $55,000. Send your donation via PayPal using the Donate link in the menu bar or donate funds the old-fashioned way—a check works just fine!
Habitat for Humanity of Grayson County
901 N. Grand Avenue
P.O. Box 2725
Sherman, TX 75091
Exciting news: We're only $1745 away from having raised enough to build a bedroom & a bathroom! Thank YOU for making an amazing difference in a deserving family's life!!!
*Readers groups, please challenge others to match your donation!
Please check back
TBA. Please check back.
October
17th
New Jersey Romance Writer's Put Your Heart in a Book Conference
---
For updates on Diana's books, new releases, appearances and more, please sign up to receive her newsletter.
Photos from Diana's Booksigning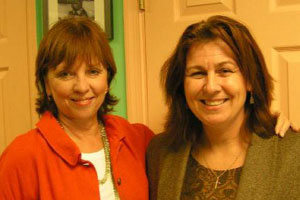 Diana with Nora Roberts Dec 2007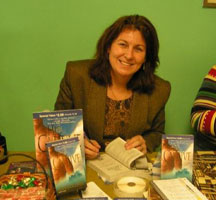 Diana signing at
Turn The Page Bookstore Cafe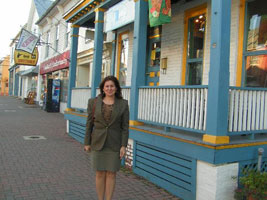 Diana in front of the
Turn The Page Bookstore Cafe

Sandi and Marybeth, friends who attended
Diana's booksigning

Authors at Turn The Page Bookstore Cafe
from left to right:
Rebecca York, Diana Cosby, Mary H. Rubin, Tracey
Anne Warren, Jason & Nora Roberts.